Getting Started with Google Currents
Accessing Currents for the first time
Select Currents for the the Google Workspace 'waffle' of apps from any Google Workspace web application (Gmail, Google Drive, etc)


If you are unable to see the Currents icon, go to currents.google.com (ensure that you are logged into your Lafayette Google Workspace account). Currents will be visible in the Google Workspace waffle after you set up your Currents profile

If this is your first time visiting Currents, you will be prompted to set up your Currents profile

You can now join or create Communities
Creating a Community
Click the 'hamburger' symbol in the upper left hand corner to expand the menu bar and click "Communities"

Click the [Create Community] button
You will be asked to name the community and decide privacy settings such as who can join the community and visibility
Once created, you can access various options for the Community by clicking the vertical ellipsis


Preferences: Choose settings related to the number of posts on the Communities' homepage, how posts are displayed, and turn notifications on and off
Edit Community: Choose an image for the Community, revisit the settings selected when originally creating the Community, and add Discussion "Categories" as a way to organize posts by topic, and add links
Manage Members: See list of current members as well as their current status (Owner, Moderator, or Member)
Share in a new post: Make a public post linking to your Community visible to all of Lafayette Google Currents

To add members, click the + person symbol

Choose to invite people with a link to the Community or directly invite people on Currents (they must have already accessed Currents and created a profile to appear in this list)
The [Manage] button allows the Community owner to see membership activity, post activity, member requests, and any posts held as spam or for review
Join a Community
Search for a Community
Click the 'hamburger' symbol in the upper left hand corner to expand the menu bar and click "Communities"

In the search box, search for the name of the Community you would like to join, select it, and click the [Ask to Join] button on the Community homepage
Note: Communities will only appear in the search box if the Community owner has set up the Community to allow others within Lafayette to see the Community and ask to join.
Join by Link
If someone has shared a Community link with you, open the link in a web browser and click the [Accept] button to join.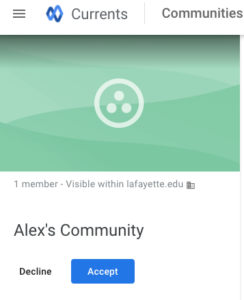 Join by Invitation
If you are invited to join another person's Community, you will receive an invitation in the "Notifications" section of the side bar menu.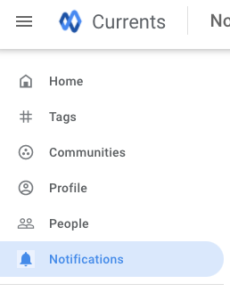 You may have to select "Other Updates" on the Notifications page to see invites.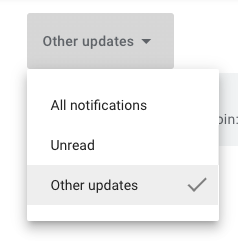 Adjust your Privacy Settings
Select "Settings" from the side bar menu to choose your privacy settings for notifications, posts, photos, and more.